Beyond Poverty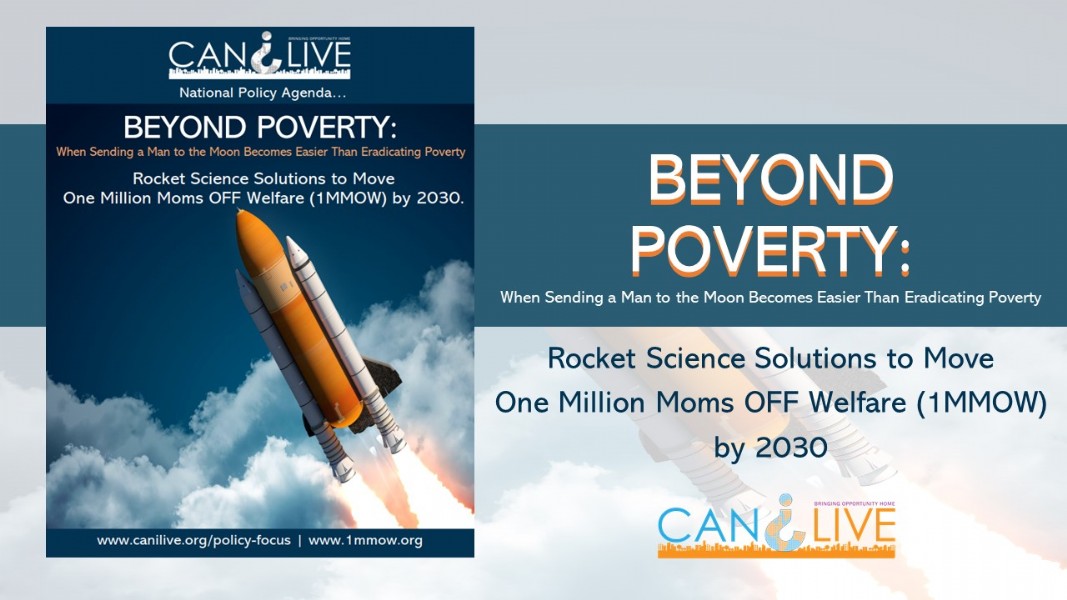 The
One Million Moms OFF Welfare (1MMOW)
is hosting a congressional briefing on March 25, 2019, to highlight the release of its national policy agenda, entitled "BEYOND POVERTY". If we can send a man to the moon, surely we can see to it that poor families have access to decent, safe, affordable housing, and are included in the economic prosperity opportunities throughout the nation.
In our efforts to increase capacity to reduce dependency and improve health outcomes, we ask for your support!
Eliminating Poverty is NOT Rocket Science!
The 1MMOW celebrates the working poor and unemployed mothers (and fathers) of America who, in a land of great richness and abundant resources, are consistently challenged to feed and shelter their children and keep their families whole in crime-ridden neighborhoods. These moms (and dads) face these challenges in neighborhoods with our poorest performing public schools and fewest opportunities for youth engagement, employment, access to transportation, and other basic human services.
The 1MMOW takes the position that all Americans are created equal and possessed of inalienable rights to life, liberty, the pursuit of happiness—and to justice under the law. Yet the entitlements provided to millions of moms living at or below poverty are structured to keep them poor while entitlements offered to wealthier Americans and corporations assist in wealth creation and enhanced prosperity.
Join Us at Our Congressional Briefing March 25, 2019.
During the event, attendees will learn what we're calling Rocket Science Solutions to Move One Million Moms OFF Welfare by 2030. Solutions to help bring about greater enforcement and accountability to the nations federal Section 3 program will be highlighted.

A list of speakers will be furnished in the coming weeks.