Certified Tenant Manager
Become a Certified Tenant Association Manager (C-TAM)
If you and your tenant council are ready to take their leadership skills to the next level, then you may be ready for C-TAM (Certified Tenant Association Manager) teaches resident leaders how to own, operate and create thriving communities through progressive economic and community development principles and best practices.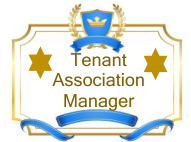 Take the learning of your mind, to the place where the passion of your heart, meets the talents of your hand. In this place is where you will make a difference. CIL's RADAR training is here to help you make your difference. Whether your brand new to the council, unsure of how to start one or a seasoned veteran looking to sharpen his or her skills, then rest assured, RADAR is the training you want to attend.
There is nothing on the market today, like RADAR. Be sure to watch our videos and hear resident leaders and professional services staff rave about how unique and powerful RADAR is compared to other training.
This Spring (2019) we are including the Certified Tenant Association Manager's Training into the Informational workshops all for the same price. You have the freedom to choose your participation level based on the topics being discussed. Attend all training and become certified. It's as simple as that!